Last week a group of friends from Los Angeles, California came to visit Costa Rica for a Nosara Vacation. Had I not messaged one of them, the only one I remotely knew, a week before their trip, I would not have taken a vacation in my own backyard. I would not have come to know and bond with this group of extraordinary men. But, because I wrote one of them, Justin, an actor and film maker, thanking him for work that he had done, while also mentioning that I lived in Costa Rica, I received a reply to my message informing me that he and his buddies would be vacationing in this country the following week. They happened to be coming during one of the busiest times of the year, and one week before their trip they had no itinerary, no reservations or concrete plans. And like I do with many who visit Costa Rica, I offered to help find them a place to stay and make reservations for ATV rides, paddle boarding tours, wildlife sanctuaries, etc. Justin and his friends were ready for an adventure, and before long we would go on one together.
While most would first visit Arenal, known for its active volcano, hot springs, and adventure tours, Charles and James would join the rest here in the beach town of Nosara. On December 31st the group trickled in, and by that night everyone made themselves at home in a beautiful house a short walk to the surfing beach of Playa Guiones. While I spent the evening getting to know the group, I later went to The Black Sheep where residents and visitors to Nosara were celebrating the New Year with live music and fireworks, and finished the night dancing at Tropicana, the club located in Nosara town.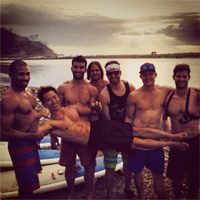 The afternoon of the next day, the first of the year, I met up with the guys to go paddle boarding with my friend Nate's company, Experience Nosara. Nate took the seven of us down a river that paralleled the coast. Surrounded by a lush mangrove forests with massive roots jetting out of the ground, we paddled through the serene natural preserve. With soothing water, moments of hot sun and cool shade, we all stopped and rested on our paddle boards, laying flat and looking up far beyond the trees at birds gliding through the air. The group laid in silence and listened to the sounds of nature. We then continued down the river, stopped at a point where we left our boards, and took a short walk through a narrow path of tall grass to a secluded black sand beach with turquoise water and waves inviting us to body surf. We spent a good amount of time catching waves and looking out over the wide pristine beaches as the sun worked its way closer to the horizon.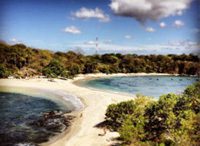 The next day the guys rented ATVs and we drove down dirt roads through green pastures to a beach about forty five minutes away called San Juanillo. This beach is unique in that not only is it exactly what you would imagine paradise to look like, but it jets out into the ocean creating two beaches with water that nearly touches during high tide. And with an elevated rocky formation at the end of the beach one can stand from above looking back towards the shore with an incredible view. We swam on the north side. The clear turquoise water was refreshing after a hot dusty ride. Kids, meanwhile, were surfing small waves that formed from a point break just beyond where we were swimming. Justin said "You live in paradise" and I knew he was right.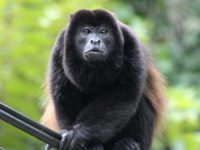 We visited the Nosara Wildlife Rescue the following day. The Nosara Wildlife Rescue began when just a few people took it upon themselves to protect and rehabilitate howler monkeys that were getting electrocuted by uninsulated power lines. We took a behind the scenes tour of the facilities and even got to interact with the monkeys face to face. I especially liked the very social and playful white faced monkey that climbed on us and really wanted to get to know us. But, more than anything, what we took away from this visit was the knowledge that man created a problem with uninsulated power lines in Costa Rica, and we have to spread awareness in order to save the lives of thousands of monkeys and other animals.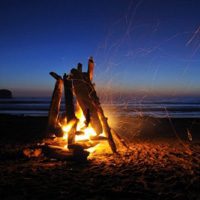 On the final night that the whole group was together we made a bonfire on the beach. The sky was full of stars. You could even see the Milky Way. After we got the fire going, most of us went for a night swim. Not only did the sky glow with stars from above, and not only did we see meteors zipping through the night sky, but to our surprise the water was glowing with bioluminescence. With no moon to give light, the night was very dark. But this only caused the plankton and the stars above to glow even brighter. The water was warm and with a little light we could see glassy waves moving in our direction. Each time the waves crashed the bioluminescence glowed. Each time we moved our hands through the water a streak of light formed around us. And once again we body surfed, only this time, through glowing water. We returned to our spot on the beach where we sat around the fire and enjoyed its heat on a cool night. We planned to discuss our goals, and with pens and notebooks in hand Charles led the group in writing goals for the year, writing why we wanted to achieve these goals, and recording what type of qualities we would have to have in order to achieve them. Something about the cohesive energy of the group impacted me, along with the value they placed on their spiritual development and the way they were inspired by community.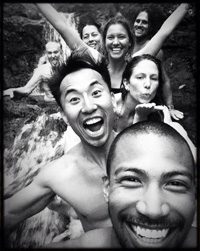 During this trip we made new friends along the way, Britton, Sasa and later after most of the guys left, Charles, James and I met Davina. Together we surfed, had deep conversations, laughed, and reflected on what really matters in life. The final days were spent surfing, eating, and at one point having a lot of fun playing in a waterfall. The week was an adventure with new friends, and yet it reminded me of the paradise that surrounds me as well as the opportunities to strengthen bonds of friendship with those who live here. Whatever happens in life we should continue to explore, we should continue to develop bonds of friendship, and we should continue to be inspired. This week inspired me.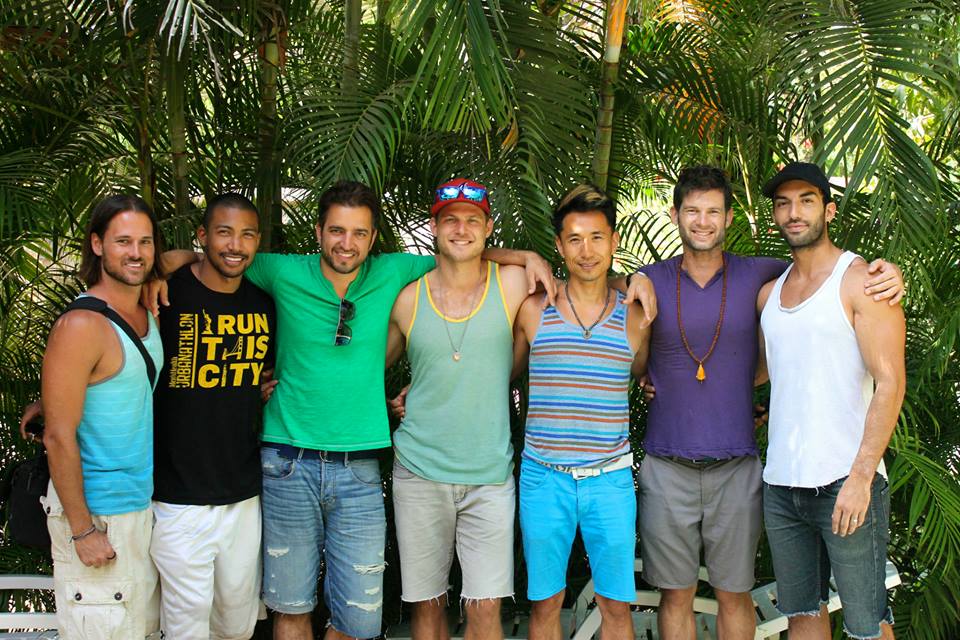 Explore more Blog Posts by Nathan Miller, check out his Portfolio or visit his Online Shop.